Where do you begin to describe a night like that? A night that finally seemed to kick start the Martin O'Neill era and a new era in Lansdowne Road. A night to sit alongside Russia in 74, France in 78 and 81, Holland in 80, Spain in 89 , Portugal in 95 and Holland again in 01. A night for the ages.
To be honest, a result like that seemed a long way away as most of the usual suspects gathered in the Beggars Bush on Haddington Road beforehand. A couple of our regulars were missing out with Frankie the Hands laid up sick and Greg being away but with the World Champions in town there was never going to be a shortage of takers for their season tickets. But all 3 of the Brummies were over, the Quinn Towers were down, Terry the Tash, the London Irish and a smattering of the YBIG crew were all present and correct and a good contingent of German fans mingling in with our support was creating a great atmosphere. The fact that the game was a sell out meant that there was more of a buzz around the area than there's been for some of the games in this campaign with masses of people milling around and that generally optimistic feeling you get before a game against one of the giants of the world game, of hope rather than expectation, was palpable.
My own sense of hopeful optimism was based on the fact that Germany only needed a draw to secure qualification but that was deflated significantly when the team was announced an hour before kick off. While our injury list had obviously given cause for concern, I was gobsmacked to see Stephen Ward and Daryl Murphy named as starters. While both players are very honest and hard working, Ward has hardly played since getting a bad injury last season and losing his place in the Burnley side and Murphy hasn't managed to take his form from last season into this and is yet to score for Ipswich in their 10 games so far. It seems clear that O'Neill doesn't trust Long to start games but I would have started him and probably would have rejigged the back 4 to accommodate David Myler or possibly even Paul McShane ahead of Ward given his lack of game time. But managers will live and die on those calls and given what transpired it would be churlish in the extreme to criticise the manager!
As kick off approached we made our way down to the ground and into the Singing Section (with a quick stop to collect my tickets for the Poland game that hadn't been posted due to the postal strike) and we made it to our usual spot behind the goal in time for the anthems. It was great to see the stadium full after the sparse attendance against Georgia and the atmosphere was as good as it's been in years. Everyone also had an eye on the match in Glasgow where a Scotland defeat would see us confirmed in the play offs and take some of the pressure off Sunday's visit to Warsaw. And the news of Robert Lewandowski's early goal for Poland was greeted with cheers as Germany had started strongly and John O'Shea had been called into action very early to cut out a Marco Reus cross that was heading for the normally lethal Thomas Muller.
Early signs weren't encouraging for us as we struggled to get any meaningful possession on the ball but as ever, our spirit was always noticeable and the likes of Cyrus Christie and Richard Keogh were putting their bodies on the line and getting blocks in to deflect balls wide for corners and leaving Shay Given's goal relatively un-threatened. My own nerves were already jangling and in order to cope I'd taken to breaking the game down into segments. 15 minutes in and I've turned to Philly who's standing beside me. "A sixth of the game gone now, only five more to go". 16 minutes in and Germany have a shout for a penalty with O'Shea on Hummels but it would have been harsh for me. 19 minutes in and Germany have an Ozil goal rightly disallowed for offside. Germany are looking ominous at this stage. 23 minutes in, "Quarter of the game gone, Philly, only 3 more of them to go". 24 minutes in and we finally get some possession in their half and Jon Walters goes down under pressure from Matt Hummels and again the ref rightly waves play on. At this stage we seemed to have settled down somewhat and weathered the early German storm. We had begun to make the odd foray forward into German territory. 30 minutes gone. "That's a third of the game done now, Philly, we're getting there". 34 minutes and a half chance for Walters results in a corner. Things are looking up. James McCarthy is having his best game ever for Ireland and it's as a result of a clash with him that Mario Gotze has to be replaced by Andre Schurrle. Ireland are making things difficult for the Germans and there seems to be a bit of lethargy about the visitors. That said, they carved out a chance about 5 minutes before half time that Ozil really should have done better with and it looks like he has brought his inconsistent Arsenal form onto the international stage. Immediately afterwards, the second substitution of the night is made as Given seems to injure himself taking a kick out and Darren Randolph comes on for the biggest game of his Ireland career. The rest of the half peters out uneventfully. "Half way there, Philly, just one more half".
Just before half time word had come through from Glasgow that Scotland had equalised. I had said pre game that I would have taken your hand off for draws in both games as that would qualify us for the play offs and also give us the opportunity to pip Poland for automatic qualification with a victory in Warsaw on Sunday. Most of the talk at half time was of hoping that things remained the same but a lot can happen in 45 minutes. That said, I don't think anyone expected the drama that was to transpire in both Dublin and Glasgow!
The second half started much as the first had in terms of German possession but we definitely looked to have a more compact shape and Germany weren't really threatening our goal at this stage. Everyone in green is putting on a serious shift and I was worrying at this stage how long some of the players would be able to keep it up considering the lack of club action for some of them and the fact that we've already had to use one of our subs. The first real chance of the half came about 10 minutes in as Reus hit a great cross over to Schurrle who manages to spoon his volley over the bar. I would have fancied Gotze to take that chance and started wondering to myself if this might be one of those nights. My feeling was that the longer the game went on the more likely Germany were to take a draw and as long as things didn't change in Scotland then that would do for us. Unfortunately, that feeling of comfort was blown apart when word came through that Scotland had gone 2-1 ahead. This left us needing to win in Poland to qualify automatically but also left the possibility of us missing out on the play offs altogether with a draw or a defeat. Had I any nails left at this point they'd have been bitten and a false alarm that Poland had equalised which swept through the section before being corrected didn't help matters. 60 minutes gone. "Two thirds of the way there, Philly".
We had played ourselves well into the game at this point and were certainly playing better in the second half than we had in the first. The crowd were really getting behind the team all round the stadium rather than just in the Singing Section and there was a glimmer of a chance for Murphy who was played through by the increasingly influential Wes Hoolahan but he dragged his shot just wide. This was Murphy's last act as he was replaced by Shane Long who received a rapturous welcome from the crowd, most of whom seemed to agree that he should have started. Immediately afterwards, Ward went down injured having had a far better game than I'd expected and Myler came on which left the outfield 10 that I would have started with on the pitch. The only concern now was that we had used all 3 subs due to the 2 injuries so if anyone else got hurt we'd have been down to ten men and we wouldn't have any further fresh legs to introduce. To Ward's immense credit he had tried to carry on and had got a vital block in just before he went off to prevent a Muller ball running through to Schurle in the box. "Three quarters of the way there, mate, one to go".
What happened next will go down into the annals of Irish football history as one of the great great moments and like many of our best moments of the last 30 years came straight from the Big Jack playbook. We were enjoying a little bit of possession after a kick out from Randolph had been flicked on by Long and controlled by the immense Jon Walters who played a one two with Jeff Hendrick before going down in the box leading to hopeful screams from our section for a penalty. No decision was forthcoming and Germany broke quickly before O'Shea got a tackle in on Reus and Myler tidied things up with a back pass to Randolph. Randolph took one look up the pitch and launched a huge ball upfield. I don't know if the German defence were aware of just how quick Long can be but despite giving three defenders half a yard start he shows electrifying pace to leave them in his wake and bears down on goal. I mean, that pace, I'm still in awe of it. Everything seemed to slow down for a second as he races into the box still having a lot to do. His next touch is a super bit of control on his knee and then BOOM!
We're right behind the goal as he hammers his laces through the ball to arrow it past a despairing Manuel Neuer and the net bulges and is nearly torn off the stanchion. Cue absolute carnage in our section as the entire stadium completely erupts in a way not seen at Lansdowne since Holland in 2001 and not at a home game since Sean St Ledger's goal to put us 2-1 up against Italy in Croke Park. The celebrations were long and sustained and covered about 3 of the rows around us leaving everyone involved with those strange bruises on the shins from hitting the seats in front that any fans who stand in a seated area are familiar with but I don't think anyone even noticed or will care! Of course once things had calmed down everyone obviously realised that there were still 20 minutes to go and given our propensity to concede late goals, 20 minutes seemed like a long time.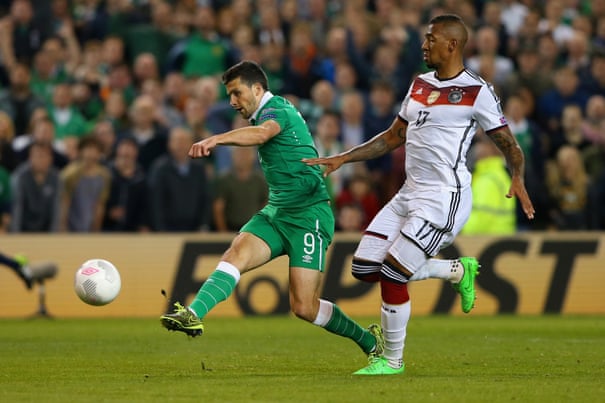 Germany up things immediately after the goal and a header from a corner just drops wide. But our tails are up now and Hoolahan gets into a position to unleash a shot that just goes wide. 75 minutes gone. "Five sixths gone now, one to go". Germany make another change bringing on a winger for a defender and within a minute get their best chance of the game as the ball is cut back to Thomas Muller 12 yards out with all the time in the world to finish it. A collective intake of breath in the stadium as the man with 30 odd goals in roughly 60 internationals picks his spot. And a roar comes up from the home support as that spot is just wide of the post! A couple of minutes later Jerome Boateng fires in a piledriver of a shot for which Randolph dives full length to palm around the post. Gundogan has a hopeful effort another minute later which Randolph saves comfortably. Robbie Brady who's run his heart out goes down and there's concern that we'll finish with ten men but it's only cramp and after treatment he carries on. 5 minutes left and Long takes a dubious tumble on the half way line and wins a free. Another couple of minutes inch past and Cyrus Christie, who's also had an immense game, plays the ball out off Muller to win a goal kick which is greeted by a cheer louder than I've seen some goals get. Next thing the word comes around that Poland have equalised in Glasgow meaning that even if we concede we have a play off secured. Ironically, it would have been better as things turned out if the Scots had held on but the sense of relief at the time was very welcome hence the celebrations! 4 minutes stoppage time are shown and we start bringing the ball into the corner. Walters has had a man of the match performance for me and he comes into his own here by getting the ball at the corner and using his strength to protect it and win a couple of corners in quick succession. A minute to go and Germany finally regain possession and move the ball forward. Hummels gets his head to the ball but it's straight at Randolph who slows things down and launches the ball up towards Long who controls superbly and plays it to Walters who again takes it to the corner and holds off the defenders until he concedes a throw. Germany take the throw but before they can move the ball up front the ref put his whistle to his lips and blows for full time.
The roar that greeted the final whistle was as guttural and as uplifting as anything I've experienced at a final whistle in a long time. I've seen us throw away so many leads to late goals over the years and most of the big results we've had in recent years against the bigger teams have been secured with late draws so this had serious echos of the win v Holland in 2001. We had to weather an early storm, grew into the game, scored mid way through the second half and held on until the end. But this is arguably a better result again given that it was against the reigning world champions and that our team in 2001 had numerous players who had played and would go on to play in the Champions League as opposed to the current crop who are more likely to play Championship rather than Champions League. Yet the likes Cyrus Christie, Richard Keogh and Jeff Hendrick all played superbly and above themselves. Every player deserved huge credit for the effort, application and courage they showed. Walters and Hoolahan were stand out performers and Walters has been our player of the qualifiers for me, he has really grown into a leader on the international stage. And I've been critical of the manager on occasion during the campaign but he can certainly argue his logic that Long would be more effective coming on fresh in the second half to terrorise defenders with his pace. And to see an Irish team close out a game in that manner when you consider the amount of times we've failed to do so was really encouraging.
The job's not done yet but we've now won 3 competitive games on the bounce for the first time since our successful qualification campaign under Trap in 2011. The play offs could be tricky and I think everyone would prefer if we can finish the job in Poland on Sunday and take November off. Given how the game finished in Glasgow, a draw won't be enough unless it's 2 all or higher which in a funny way might help us. O'Neill by his nature is conservative and the temptation to keep things tight and hold out for a nil all may have been there if that would have sufficed. Needing a win or high scoring draw means that we might as well just go for it. The squad should have got a huge confidence boost from that win last night and it really feels like a turning point in what's been a bit of a stop start reign so far. Maybe he's been playing the long game all along!
I'm gutted for the Scots who added a huge amount of colour and atmosphere to this campaign and I'd have loved to be travelling to Poland with the chance of returning the favour Gary Mackay did for us all those years ago but it wasn't to be. I have to congratulate the North on their successful campaign but the onus is now on us to finish the job and join them. Myself and Brummie Bren have a flight to prepare for to Poland and a Bohs v Pats match to attend so I'll wind up here and hope that the Poland blog to come next week is as upbeat as this one! COYBIG!!!!