It's had its critics but I've been broadly in favour of the Nations League concept since it was first announced. There were too many meaningless friendlies on the calendar and there'll still be the same number of Euro and World Cup qualifiers so surely having an additional four competitive games is a good thing? Plus, even though it worked to our benefit last time out, I wasn't a fan of a third-place finish in a group being enough to get a play-off.
So tying those four finals places to the Nations League rather than rewarding third-place finishes makes sense to me. The opportunity to possibly get promoted and test yourself against the top tier nations was another positive for me. I was looking forward to hopefully getting a draw that opened the possibility of a nice couple of trips to somewhere new or at least somewhere we hadn't played for a while. What I didn't want was what we got.
The draw last January quickly put paid to the positivity I was feeling about the tournament. The odds on Wales and Denmark coming out from their respective pots to our group were 25/1 but that's what came to pass. Outside of the fact that we've visited Cardiff and Copenhagen in the last year, the wounds from the beating Denmark subjected us to at home still feel fairly raw.
While we feel that we owe Denmark one, there seems little confidence that delivering revenge is likely. And to flip that, there's no doubt that Wales will feel they owe us one after October's smash and grab in Cardiff. So, having had our last three competitive games against that opposition, our next four will also be. Will familiarity breed contempt?
Speaking of contempt, it seems to be in plentiful supply within the Ireland camp if reports are to be believed. The charm offensive launched by the FAI by making Martin O'Neill available for a series of media interviews ran aground fairly quickly with the news that our main prospect for the future, Declan Rice, had decided against committing his future to Ireland.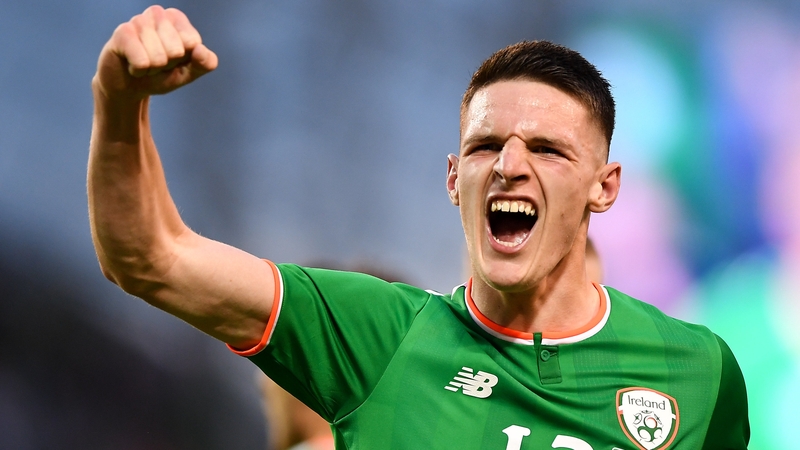 As this week's game against Wales is a competitive match, an appearance would tie the West Ham centre-half to the green shirt. Given that Rice had played the last 3 friendlies and was front and centre as New Balance launched the new Ireland away kit earlier this year, the assumption was that his future was secured.
Yet with Harry Arter now joining Rice in declining a call-up, the focus has switched to the summer altercation between Arter and Roy Keane that O'Neill confirmed occured last week.
Rumours abound that Rice was unimpressed by an exchange during a spat between Keane and Arter where the latter had drawn the former's ire. So we're now left with what seems to be Alan Browne's head photoshopped onto Rice's body in the publicity shots for the home jersey launch as Rice mulls over his international future with England sniffing around.
I can't condone Arter rejecting the call. Regardless of whatever issues he has with Keane, representing your country should be more important than the management set-up you're playing for.
But questions have to be asked about what exactly happened and what was said that has caused the rift. The irony of the reported situation where Arter took exception at being accused of faking injury by Keane can't be ignored. Nor can the fact that Keane also had an argument with Jon Walters at the same time.
And given that O'Neill said last week that the argument had "definitely been defused", which clearly isn't the case, it makes it difficult to take his assertion that this is unrelated to the Rice situation as gospel.
O'Neill himself has admitted that he hasn't spoken to Rice 'directly' since the player's decision tu step back. Yet Gareth Southgate stated over the weekend that he has. Supporters are entitled to query why O'Neill has not.
Regardless of the truth, what the FAI have been pushing as a fresh start following last year's Danish debacle and O'Neill's extended flirtation with Stoke last January is unraveling very quickly.
Clearly, everyone from the FAI to the management team to the support needed a period of reflection following that Denmark defeat. The manner of it raised huge questions over the wisdom of the FAI offering O'Neill a new contract before the campaign was finished. Although the Wales result came just after that contract offer, the play-off capitulation surely had everyone second guessing their decision.
The manager clearly was, as his flirtations with Everton and, particularly, Stoke showed. From the FAI perspective, they certainly didn't seem to be pushing to get his signature onto the verbally agreed contract.
My belief has always been that if an Ireland boss delivers a second place finish, he's done enough to earn another campaign. We've only topped one group in our entire history back in Euro 88 qualifying so second has to be considered reasonable.
Much as I was unhappy with the football delivered in the last campaign and I certainly wouldn't have been offering a deal with two games to go in the group, the results from those two games would have been enough to sway me. While the play-off defeat was devastating in its nature, I wasn't going to change a belief I've always had based on one defeat.
However, the attitude shown by the manager since has me seriously questioning it. The nature of the Denmark game and the seriously questionable tactical decisions made during the game were rightly scrutinised and criticised in the aftermath. I struggle to believe that someone involved in the game as long as O'Neill wouldn't expect that.
Clearly, his ego doesn't like the criticism and that's fair enough. But the patronising manner that he's dealt with that criticism left a bad taste. His attitude towards Tony O'Donoghue in their interview after the match and again after the Nations League draw was bizarre and one can only imagine what sort of reaction O'Donoghue might get if he broaches the subject of Rice and Arter this week.
The constant references to what he achieved as a player under Brian Clough a generation ago and his run to the UEFA Cup final with Celtic 13 years ago are beginning to grate on supporters as well. As is his admission that he sees no value in working on set pieces during international breaks. Considering how porous we have looked defending them recently, then surely tackling this should be a priority, whatever about practicing attacking set plays.
The game has moved on and people want to see something from the manager that recognises that. Yet, as ever in football, success will be based on results. And in general, that's one thing that O'Neill has been able to point to in his career.
The thing is that delivering them after losing two of the ever-dwindling number of squad members operating at Premier League level looks a lot more difficult than it did two weeks ago.