It's always said that every high eventually results in a low. And after 4 days of high spirits and celebration from Thursday through to Sunday, the 2,500 souls who'd trekked from Dublin to Warsaw in the aftermath of Thursday's famous win against Germany were faced with our own comedown as Ireland reverted to type and once again, came up just short.
Thursday was undoubtedly and still remains one of the greatest results in our history and was celebrated accordingly. I had heard stories of lads heading straight to the airport from various pubs and clubs in Dublin on Friday morning to head to Poland and maybe 10 or 20 years ago I may have done the same but the intervening years have brought at least some modicum of sense so myself and my travelling companion, Brummie Bren had made the call to fly out Saturday morning so that we would at least still be in reasonable nick come match day on Sunday. So Friday was a day of rest to a degree with a bit of dinner in Porterhouse North and a couple of pints either side of taking in a great win for Bohs in Dalymount the limit of our activities ahead of a 7.15 start on Saturday morning.
I had the usual fitful sleep that I always get ahead of an early flight and having avoided the possibility of sleeping in, the two of us were up and ready when the taxi arrived and had enough time to grab a bit of breakfast. The airport was thronged with Ireland fans making their way over and a few Northern Ireland and Scotland fans obviously using Dublin as a hub to make their own way to Finland and Faro respectively to see out their qualifying campaigns. The mood around the airport was generally very upbeat as one would imagine given Thursday's result. The flight was full and pretty uneventful with a lot of people using it to catch up on some of the sleep missed since Thursday or to relive the events of the previous game. And there was a definite optimism that this time we were heading back to Poland with the hope of having something to cheer about on the pitch rather than what happened in 2012 when it was what happened off the pitch that brought credit to the country.
One of the lads from the YBIG forum, GSpain had made the much appreciated effort to hire a minibus for the 2 hour journey from Lodz where we landed up to Warsaw for 20 of us from the forum to avoid the hassle of getting buses or trains and it was great to get to put a few faces on the names from the online community and the craic and bit of banter on the journey made the 2 hours fly in. There was a good spread of ages on the coach with some lads making their first away trip along with a few grizzled old veterans like myself and Bren which led to some funny exchanges as we were reminiscing about previous away trips where we needed a result. It brought it home how many years have passed when we were talking about the last time when a minimum of a 2 all draw would have qualified us back in 1997 in our play off against Belgium and one of the lads in front of us said that was the year that he was born! I swear it seems like yesterday to me. Talk then turned to the World Cup 94 trip to America and the resulting comment of 'Jaysus, I wasn't even swimming in me Da's ball sack at that stage!" nearly had a few of us choking on our cans! Still, it's good to see a new generation of fans coming along considering how little there's been to cheer about in recent years. Although the fact that one of them called for a toilet stop on a service station that didn't have a shop to stock up on more refreshments showed they still have a bit to learn!!
The bus dropped us in the centre of Warsaw and having seen our hotel in the distance just before we got dropped off we were able to make our way there on foot. Terry the Tash had noticed a deal on Booking.com for the 5 star Westin hotel in the city centre so we had all booked up for a bit of luxury for once. We'd since heard that the team were also staying there but it was still a bit of a surprise when, after a rest and a freshen up, I called the lift to find a quiet spot to ring the missus back home and when it opened on my floor I found about 12 members of the squad beaming out at me! Rather than trying to squeeze my way in I thought it better to leave it at a 'Howya lads, it's grand, I'll wait for the next one! And thanks for Thursday!". I think they must have been heading out to train at the ground as when I got down to the lobby there was an area roped off leading out to the team coach as my attempt to find a quiet spot for a call was doomed to failure with a big crowd gathered to get a few photos and autographs as the players came down the stairs from the first floor. Anyway, it wasn't long clearing out as I touched base with home and then went back upstairs to grab Bren and hit the town for the night.
A Mexican restaurant / bar called the Tortilla Factory had been chosen as the congregation spot by YBIG for the weekend so we headed there initially to meet with Peter Mc, Terry the Tash and the London Irish crew but as it was getting pretty busy and we were looking to get food as well as a drink, we doubled back to a place round the corner called Piwiarnia that we'd spotted on the walk down. There was a decent mix of locals and Irish fans in there including a few familiar faces as Steve Amsterdam and a few other faces from YBIG had nabbed a table and were getting food so we had a good catch up with them while we waited for a table ourselves. It was our intention to just eat there and then maybe go back to the Tortilla Factory or possibly hit the Old Town but once we'd been fed and watered we got comfortable and before long the chants had started and ourselves and a few supporters at the table next to us over from Down for the game were up on the chairs belting out The 12 Days of Paul McGrath, We all Dream of a Team of Gary Breens, We're on the One Road, The Lonesome Boatman etc and the night slipped away from us! It was about 2.30 when the owners reluctantly told us they had to close up and after the early start and with a long Sunday ahead of us we decided that heading back to the hotel was the best option and called it a night around 3. The only downer was Bren's jacket being missing at the end of the night which may well have been picked up by mistake but I heard of a number of lads having pockets picked over the course of the weekend which was something that hadn't been a feature of our previous visit to Poland in 2012.
Sunday morning rolled round and we headed out around lunchtime to get some late breakfast and by then had made the call to stay out for the day. We'd missed the Quinn Towers on the Saturday after they'd been part of the advance party that landed on the Friday so linked up with them and headed down to check out the Old Town where Steve Amsterdam and his crowd had found a nice spot to sit out in despite the dropping temperatures so we made our way down there walking through and getting a daytime look at the city which is a funny mix of old medieval style buildings, some iron curtain era architecture and modern high rises. It's very spacious but lacks the charm that Torun had when we based ourselves there for the Euros although it certainly has more of a big city feel than Poznan or Gdansk had. After a couple of relaxing local brews the gang of us made our way back up to the Tortilla Factory where the Irish crowd was gathering pre game. The place was bedecked in Irish flags and getting pretty busy but I managed to get a spot for the 69ers flag to go up and made my way up to a raised section of the pub towards the big screen where a group of the London Irish had secured a spot earlier. It was standing room only but we squeezed ourselves in and had a spot overlooking most of the crowd in there so we were able to give it a good lash in getting the songs going until the Ireland France rugby game came on and the volume was highered up as most people started watching the game on the TV's dotted round the pub. There was still time for one more rousing song though as Ireland's Call came on in Cardiff and every man jack in Warsaw belted out a lusty rendition of Amhrán na bhFiann to completely drown out that other dirge!
The twins are the ones at the back!
Yes we mexi-can!
I've never been a rugby fan so, although I was obviously glad to see the team beat France and progress into the Rugby World Cup quarter finals, all my interest was focused on the Poland match. Like everyone there, I like to see Ireland do well in any sport but would still have gladly swapped the win in the egg chasing for a win or high scoring draw that evening. And as soon as the rugby finished we gathered the troops and jumped into a number of taxis to head up towards the stadium. The atmosphere was building nicely despite the cold and after grabbing a bite and a drink outside the ground we made our way into what was a very impressive stadium. Given that the capacity is only 5,000 more than Lansdowne it is a far more intimidating set up and the steep banks of seating on all 4 sides gave us an unusual view as the Poles had put us up in the nosebleed seats on the top tier behind the goal that Poland were to attack in the first half.
Outside.....
......and in.
The first thing that knocked the sense of optimism that I'd been nurturing since Thursday's victory was, once again, seeing the team that Martin O'Neill had selected for such an important game. There had been whispers over the weekend that Wes Hoolahan was struggling with his heel injury that had been reported since before the Germany game and he had been spotted round the hotel wearing slippers rather than the trainers the rest of the squad had been sporting. But it was still very disappointing to see him named on the bench. The general thought was that if he was fit enough for the bench after playing on Thursday that he may have been worth gambling on and trying to get an hour out of him. Hoolahan has since apparently said that he told O'Neill that 20 minutes was as much as he could manage which may explain his absence but I have my doubts that he would have started him anyway given his innate conservatism and his previous in the big away games this campaign. Surely the majority of managers would attempt to persuade a player he really valued to play from the start if they say they're fit to give 20 minutes? Elsewhere in the team I had to question a couple of the changes. I've never been as down on Glen Whelan as many seem to be and think he can be underrated by some but had spoken over the weekend about how James McCarthy's performance playing deeper on Thursday in Whelan's absence had resulted in him having his best game for Ireland and how Whelan may have to be sacrificed from the starting 11 to allow McCarthy to continue there. So it was disappointing but not surprising to see Whelan earmarked for that deeper role. Equally, given how well Robbie Brady had played on the left of midfield in the previous game, it was disappointing to see him slot back in at left back when I think either moving Cyrus Christie across or letting James McClean drop in there could have freed the more creative player in Brady to operate further upfield. An XI of Randolph, Coleman, O'Shea, Keogh, McClean, Walters, McCarthy, Hendrick, Brady, Hoolahan and Long would most likely have been my preferred starting team. If we're to accept that Hoolahan couldn't start then potentially playing Aiden McGeady in the Hoolahan role could have been considered. Him playing in that position hadn't worked away to Germany but Poland are no Germany and he had done his best work away to Georgia drifting into that role. Even with Whelan in the team then pushing him further forward to leave McCarthy further back could have been considered. But everyone knows that Martin O'Neill is his own man so it was his selection that was going to see if we could get the result we needed on the night to avoid the necessity of another play off.
The game kicked off and was cagey enough for the first 5 minutes before Long went down under a challenge from his Polish marker, Kamil Glik, after a clash of heads in an ominous sign of things to come. Other than that nothing much happened until the game exploded into life on 13 minutes. As we expected and feared, Robert Lewandowski was involved when his shot was deflected wide for a corner. The corner was clipped back beyond the edge of the box where some very slack Irish marking had left Grzegorz Krychowiak free and he dispatched a shot into the corner under little pressure which bounced once before nestling in the net past the unsighted Randolph. However, we'd only just finished uttering our expletives when a high ball was flicked on by Jon Walters towards Long just as he was moving into the box. He went to head it and as he did so Michal Pazdan went in with a high boot and caught him in the head sending him crashing to the ground. Although replays showed that although Long's body was in the box, his head was just outside it but regardless, the ref pointed to the spot. After a short delay for treatment, Walters stepped up and buried a perfect penalty low to the keepers left! One all and we were halfway to our high scoring draw target with only 16 minutes on the clock.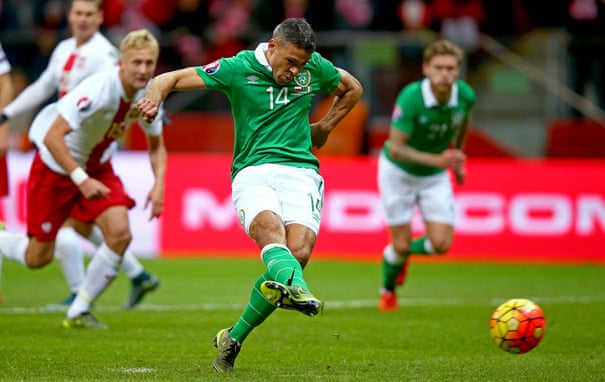 Jonny on the spot!
For me, this should have been the signal to raise the tempo and try and take the game to our hosts. One more goal for us and they'd need two more. Certainly, after 16 minutes, one all was a far better score for us than nil all so our tails should have been up. Alas, that wasn't to happen, even after the lift we should have got a minute later when Poland had the ball in the net again when Krzysztof Mączyński beat Randolph from a Lewandowski cut back from an offside position that was correctly called by the officials. It had been a heart stopping 5 minute spell but rather than us trying to dictate things, the game started to drift again with Poland rather than Ireland having the better of the little creative play that was on display. As with the game in Dublin, the Poles were going down at the slightest contact with Lewandowski in particular making a huge meal of being caught by an O'Shea arm which earned what would prove to be a costly booking for the Waterford man. All we seemed to be looking for was set plays and even when we got those, our delivery was generally very poor with a Coleman punt straight into Lucaz Fabianski's arms indicative of our failings. This pattern was repeated around the half hour mark when the aforementioned Coleman won a corner only for Brady to play it straight to the keeper once again.
While Poland were certainly dominating possession they hadn't really threatened our goal since that offside effort but as the game moved towards half time this began to change. And after one ball that had fizzed across the 6 yard box just missing the outstretched boot of Maczynski, our defence was finally breached 2 minutes later on 42 minutes. And of course, it had to be the one world class player on the pitch in Lewandowski who got it. It was a well worked goal to be fair as Piszczek worked the ball down the right before pulling it back to Maczynski who popped a cross over to the penalty spot. There was still a lot to do but Lewandowski showed just why this was his 15th goal in his last 6 games by arching his back and neck to generate a huge amount of power onto the header and plant it into the corner. So rather than going in level at half time, it was 2-1 to Poland as the ref took the players off a few minutes later.
To be honest, much as it hurts seeing us concede any goal, I was thinking that 2-1 didn't really make much difference as long as we didn't concede again. One all was sending us to the play offs anyway so we needed another goal regardless and I was hopeful that the longer the game went on the more adventurous we'd become as had been the pattern in a lot of our games this campaign. We hadn't put a solid 90 minutes together in the group so a better 45 minutes would surely be on the cards going by that pattern? The Polish defence had looked shaky enough dealing with Long on our rare forays forward and I was thinking that moving Walters inside to partner him in a 4-4-2 might enable us to get a better foothold in the game. Unfortunately the start of the second half saw no change to the pattern of the game and Poland again started on the front foot with a very spurious claim for a penalty after a blatant dive from Lewandowski being the first meaningful action of the half. He's a great player but his tendency to go to ground is really irritating. On the one hand he's strong enough to jump over Walters to power his header in yet he'll throw himself to the ground on every opportunity if he can't win the ball. The fact that he wasn't booked on this occasion left me baffled.
After more of the shadow boxing that characterised the first half with a Whelan shot easily saved by Fabianski the only action of note, we were dealt a major blow when Glik rather cynically followed through on Long after winning the ball to leave our biggest threat laid out in what looked like significant pain. He was eventually stretchered off to be replaced by Robbie Keane who immediately got a shot off but it was well off target. A minute later McGeady came on for Whelan and we moved to the 4-4-2 which to be fair is essential with Keane on the pitch given that he couldn't play as the lone striker at his peak, let alone in the twilight of his career. The change was noticeable straight away as we began to move forward with a bit more purpose and Poland began to retreat a little as they began to settle for what they had. But we still weren't creating anything of note and it took a great stop from Randolph from a Poland break on 64 minutes to keep us that single goal behind. This lifted Poland for another couple of minutes before Ireland moved forward again only to waste yet another dead ball when Jeff Hendrick was the guilty player to put a corner straight into the Polish keepers hands. And again our wastefulness was shown up a couple of minutes later as Brady contrived to boot the ball straight into touch when attempting to find McClean.
Poland attacks were becoming rarer and rarer but we had another let off after 72 minutes when poor marking from a corner once again was nearly punished as Krychowiak was given a free header which he luckily put wide. Immediately after this Hoolahan was finally brought into the fray and instantly made a difference as our play become a little less frenetic. However, chances were still at a premium with a McClean effort miles off target the only thing that could have been considered an opening before the moment which we will regret forever should we not come though the play off.
There are often times in football when you can play poorly but hang on in a game and somehow sneak something that you don't deserve. And this really should have been one of those times. On 80 minutes, our increasing pressure resulted in a corner which for once was well delivered. Although Brady's initial cross somehow evaded everyone, the ball was recycled by Coleman who played it back out wide to his Everton team mate, McGeady. A little stepover and shape saw him beat his man and loft over a cross. Richard Keogh had stayed in the box and managed to lose his man and seemed to have the goal at his mercy but instead of just glancing the header into the corner placed it straight at Fabianski who spilled it initially but, with no one there to attack the rebound, gathered it at the second attempt. I had initially thought that there hadn't been enough pace on the ball and it was trying to generate pace that resulted in Keogh missing it but having looked back at the replay and at the great picture below that one of the YBIG forum members, awaythelads, discovered he had when he went through his pictures, you would have to say that he really should have scored given the space he had. It was probably an easier chance than the one Lewandowski scored in the first half but that's the difference that having a Champions League player rather than a Championship player can make.
Keogh way back (picture courtesy of awaythelads)
The feeling straight after that miss was that that was our chance to get the second goal we needed and so it proved as our efforts became more and more frantic over the remaining ten minutes with a shot from Hoolahan that looped into the keepers hands and a cross horribly skewed wide by McGeady summing up the increasing frustration. A flicker of hope was lit when the fourth official indicated 5 minutes of stoppage time which was right given the time-wasting tactics employed by the Poles but rather than that giving us the impetus to push on and create another chance, the stoppage time made a bad situation worse as first, John O'Shea ruled himself out of the play off first leg by pulling back Lewandowski on the halfway line and earning himself a second booking and red card. Then two minutes later, Lewandowski again went down after minimal contact from Walters who was also booked and will also miss the first leg. You'd have to wonder if Lewandowski had been booked for diving as he should have been in the first half would it have kept him on his feet a bit more in the rest of the game. Poland ran the clock down after winning that free and once again we had to make our way out of a stadium with ticker tape flying and music blaring reminiscent of previous trips to Brussels 97 and Paris 09 as the locals celebrated qualification. At least the difference with this time was that we now have a second chance.
It was a subdued train journey back into the centre as the sense of disappointment settled in and we made our way back to Piwiarnia bar we'd been in the previous night but this time there was no singing and just a post mortem as we dissected the game over some food and drinks with the usual suspects and tried to work out what permutations of results would be required to get us seeded for the play offs. And after a couple of hours of trying and failing to work that out it was time to call it a night and get ready for the trip home the next day. At least I had the luxury of a lie in as my flight wasn't until 6:20 the following evening, unlike my room mate, Bren, who was last seen ordering a taxi for 5.45 in the morning for a red eye 7:50 flight as we called it a night at 4 in the morning!
So, it's on to the play offs for us but I'm no longer convinced that the corner I thought we'd turned on Thursday has been. It was extremely disappointing to see us revert to the type of negative mindset that had blighted many of our away performances in the campaign, even in the games that we got good results in such as Georgia and Germany. We have played better when we have tried to make things happen rather than when we have resorted to pumping long balls upfield and waiting for a break. Yes, maybe we could have got lucky had Keogh taken his chance but that was the only chance we created from open play the entire game and even then it was a recycled ball from a corner. Given that we were halfway to the result we needed after 14 minutes to not push on and go for it was negative in the extreme. Relying on taking a single chance when it comes along can only get you so far given the lack of a Lewandowski or a similar world class player in our ranks. For our squad we really need to create 3 or 4 chances of the nature of Keogh's to give us the opportunity to score the goals we need. And to do that we need to play our more creative players further up the pitch where they can do more damage. So, having given Brady a chance at left back and on the evidence of his effectiveness in the last 2 games, I think it's time to let him loose on the wing in the play off. It's essential that Hoolahan is fit and given a central role. Walters and O'Shea will be sorely missed. Despite O'Shea's poor performance on Sunday, he's been one of our better performers this campaign and as stated before, Walters has been our stand out performer. We have to hope that Long recovers fitness as it's essential he starts for me.
I had issues with O'Neill's team selected v Germany but that was more around the presence of Daryl Murphy ahead of Long and a left back who had barely played for a year in Stephen Ward. Despite those concerns, it seemed like he had stumbled across his best formation and I'd be happy with a starting XI along those lines with Long in for Murphy and Randolph for Given to start the play offs. Given what transpired v Gemany it was folly to change back to our conservative default set up against Poland. To be honest, I expect us to set up in the same manner and for Given and Whelan to start if fit regardless of our opposition come November despite it failing in our away games v Scotland and Poland. O'Neill can arguably point to us hitting the bar in Glasgow in the last minute and Keogh's chance against Poland and it is on such fine margins that games and campaigns can turn. But I think that while that approach can pay dividends against the top level teams, we're better served against teams of a similar standard to ourselves by playing a more creative, expansive game. Looking at the seeded teams in the play offs, there is no outstanding team in any of our potential opposition. Sweden and Bosnia do however have exceptional attackers in Zlatan Ibrahimović and Edin Džeko who have the top level experience that we lack and having seen the difference that having one of those players can make I hope to avoid them. Ukraine would be an absolute nightmare to get to so I've fingers crossed for Hungary. Let's see what Sunday brings anyway, hopefully come Sunday evening the irrational optimism will be rising again. Whatever happens, we'll always have Germany at Lansdowne but let's hope for much more!