Any disappointment in dropping two points at home last night is put into perspective by what was done to Seamus Coleman and my first thoughts on the game this morning were about that horrific injury rather than the game itself. Coleman is one of my favourite players in the squad, has been a superb captain since getting the armband and always comes across as a very sound, down to earth lad which makes what happened all the more galling. The fact that he may now miss the rest of the campaign is a blow but that's as bad an injury as I've witnessed live in all my years watching football and we can only wish him a full and speedy recovery.
After the total scarcity of tickets in the build up to the game, as usual a few spares started appearing on the eve of the game. As I'd had plenty of people onto me looking, this meant a break with tradition as I had to collect a few in Mulligans rather than going straight to the Beggars, meaning we didn't get across to Ballsbridge till an hour before kick off. As it happened most of the usual crew were in Mulligans anyway with the Brummies, The Quinn Towers, McCoy, Terry the Tash and various others dropping in over the afternoon. After collecting Frankie, Greg and Philly and sorting out the last of those short at the Beggars, we picked up the rest of our gang and made our way into the ground in plenty of time for the anthems. As it was a beautiful balmy spring evening and perfect conditions for football, the hope was that the game would match the weather. Unfortunately, that wasn't to be the case.
There were no surprises in the team when it came through and with James McCarthy fit it was the same eleven I'd have picked. However, as we got into the ground, word came round that McCarthy had felt his hamstring in the warm-up and was out with David Meyler coming in in his place. Although I can understand that with such a late change, a like-for-like replacement was required to keep disruption to the game plan at a minimum, given the doubts about McCarthy's fitness all week, picking him was a gamble. Knowing that he was struggling, I think Martin O'Neill should have gone for a bolder approach and worked on the basis that McGeady would play as the fifth midfielder further up the pitch, in the free role that Wes Hoolahan normally plays when selected. I've argued on this blog before that McGeady is worth trying in certain games in that position and he's been excellent playing the role for Preston this season, a move that had rejuvenated his career and his form. My gut feeling is that with all the injuries, O'Neill was taking a safety first approach and trying to ensure that we got a draw at worst. Still, the selection did mean that we at least had that option off the bench.
The atmosphere in the Singing Section was raucous as ever although I'm not so sure that the presence of a brass section really added anything to it. The game settled into a fairly dour affair reasonably quickly with little in the way of invention from either side and a few robust challenges from each team being the only things to get the crowd going. There was a very poignant moment on the 5th minute when a commemorative banner was unfurled and a minutes applause broke out as a tribute to Ryan McBride, the Derry City captain who tragically died at 27 earlier in the week. As James McClean was a close friend and former team-mate of McBride, he was wearing the number 5 in his own tribute and it seemed apt that he laid down a marker with a hard but fair tackle on Gareth Bale just before the applause began. McClean seemed to be channeling his emotions in the right manner but the game itself wasn't catching fire at all. Wales were certainly enjoying more possession but this was mainly in the middle third of the pitch with both sides having similar activity in each final third without either keeper really being tested. A couple of set pieces for Ireland had come and gone without anything being created and it was about halfway through the half before the first piece of proper skill was seen with Bale playing a beautiful cross field pass that just skidded away from Neil Taylor after Coleman got caught out of position and played him onside. At the other end a one two between Jeff Hendrick and Shane Long also skidded away from Long as he moved in on goal but that was really as good as it got for either side in the first half. The half ended with Ashley Williams having words with Long after Long left his foot in a little longer than necessary and Glen Whelan going in on his club-mate Joe Allen with his arm somewhat high but both challenges were the sort of thing you see week in, week out in the Premier League. So nil all at half time and I imagine that O'Neill would have been happy with that.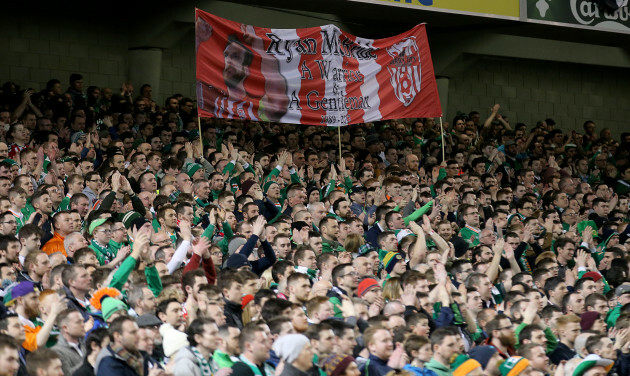 The second half started in similar fashion to how the first finished with Meyler going into the book for challenging Aaron Ramsey with his arm raised. A second free for a handball by McClean minutes later was in Bale territory it didn't trouble Randolph. Another Bale shot minutes later flew past the post but as the half went on the excitement started to peter out again as containment seemed to be the order of the day. There was still a bit of niggle with Ramsey drawing blood from Whelan's head as Whelan stoo ped to reach a ball. Again, this was one of those things you see regularly and not the sort of challenge that I'd have an issue with. There didn't seem to be any chance of a game breaking out although Ireland were certainly having more possession than in the first half. A couple of Ireland set pieces came and went without stretching Hennessy in the Wales goal. Unfortunately, the next major action was what has dominated all the talk since and what has no place on a football pitch.
68 minutes were on the clock and Wales were pushing forward. Chris Gunter had pulled a ball back towards Bale but John O'Shea was clearly getting there first to clear it . Bale had plenty of time to pull out but instead launched himself miles over the ball with his studs showing straight into O'Shea's leg. It was as clear as red as you can get and I have no doubt that had it been any other player the ref would have shown one. I think that the fact it was one of the most high profile players in the world made the ref bottle it a bit and instead showed him a yellow. Had he been given his deserved red card then what happened next surely wouldn't have happened as the game would developed differently.
Once the game restarted, Randolph had launched the ball long and from a Long flick, Walters had tried to get a cross in that was blocked by Taylor. As the ball rebounded, Coleman was onto it in a flash and was running into a gap about thirty yards from goal. Taylor was clearly not going to get the ball and only he will know whether he panicked or just decided he was leaving his foot in. Either way, just like Bale a minute before it was a coward's challenge that was always potentially going to injure an opponent. When I was taught how to tackle as a kid, keeping your studs down was the first thing we were told. He was miles over the ball and had his foot at a 90 degree angle to Coleman's shin. There is no excuse for it. As soon as I saw it in the stands, I knew it was serious even before the ref branded the red card. While there had been some hefty challenges earlier in the game, Bale's and Taylor's were different. It's come out since that O'Shea needed stitches after Bale's and had the ref shown a red then what happened within the next minute wouldn't have happened in my opinion. I'm really disgusted by what transpired and Bale and Chris Coleman did themselves no favours with their response afterwards. To suggest that Bale wanted to appeal the booking is farcical and I don't even think that appealing bookings is possible. It seems to me that Chris Coleman wasn't happy with the robust challenges at the end of the first half and told his players to get stuck in a bit more. The fact that Wales seem to be suffering a bit of a Euro hangover caused them to get frustrated by their inability to break us down and they lost their heads. There's no excuse for those sort of challenges and as a man who's own career was ended by a bad leg break, a bit more class from Chris Coleman should have been expected.
Given the horrific nature of the injury, it was difficult to get back into the swing of the game. Cyrus Christie came on for Coleman but given that we were now playing ten men, I feel a double substitution should have taken place then with McGeady for Meyler being the obvious choice. With twenty minutes to go, it was time to go for the jugular but although we definitely started committing more men forward, it was still a bit laboured and it was ten minutes too late for me by the time McGeady was finally introduced on 80 minutes. Our best chance had actually come five minutes earlier when McClean had two bites of the cherry with a left foot shot rebounding back to him and his follow up shot with his right deflecting just wide off a Welsh defender. McGeady did get on the ball as soon as he came on and we finally saw a bit of creativity but despite almost incessant pressure in the Welsh area, it was Wales who actually came closest to stealing it in the last few minutes. After inexplicably escaping a second yellow for a high challenge on McClean moments earlier, Bale pounced on a loose ball from Richard Keogh and unleashed a thunderbolt from his left foot which thankfully swerved wide of the far post. Ireland ramped up the pressure again for the last few minutes but despite some nice trickery from McGeady and a few long throws from Christie, nothing of note was really created with a few scrappy balls cleared after bouncing around the six yard box as close as we came. So a draw at the finish and while most present would have accepted that before kick off the fact that we've most likely lost our captain for the rest of the campaign and couldn't take advantage of the extra man we had for twenty minutes meant that the atmosphere was fairly subdued leaving the ground.
Most of the discussion after the game focused on the bad challenges and that's as much a reflection of how bad they were as how poor the game was. That said, it was a disciplined performance from Ireland who stifled Bale, and Wales in general, which partly led to their frustration. I would have liked to have seen us take a few more chances, particularly when they went down to ten men and would have introduced McGeady immediately and then brought Daryl Horgan on for the last ten minutes. McGeady clearly caused problems when he came on and I feel that, give how successfully he's adapted to Championship football in England, Horgan could have caused similar trouble for their defence. A lot of our attacking play was long ball and set plays, which isn't unusual for us but there was a missed opportunity to mix things up. Still, the fact that the gap to Wales remains at 4 points is a positive and having gone five games unbeaten in the group with home fixtures against Austria and Serbia to come we are still in a good position.
We're definitely going to miss Coleman for his ability at full back and for his leadership qualities. I quite like Christie but he's clearly not in the same class and needs to get himself back into favour at club level. I'd have called up ex Bohs man, Matt Doherty from the standby list for this week's Iceland game to ease him into the squad as he's probably our best option after Christie and is playing well and regularly for Wolves, albeit at left back rather than his natural right side. O'Neill has decided against this but I think it's safe to assume that he'll be in the Summer squads as cover for Christie. Meyler has filled in there before but I'd sooner have a natural full back in that position.
With regard to Coleman's injury, it's the worst leg break I've seen an Irish player get since another superb full back, Jim Beglin, suffered his way back in 1987. Beglin was never the same player after he came back but recovery rates have improved in the last thirty years and while we've seen some players such as ex Arsenal man, Eduardo, struggle to come back, there have also been others like Celtic legend, Henrik Larsson, who came back as good as ever. We can only wish Seamus all the best in his recovery and hope that he's more like the latter than the former. Interestingly, the game on Friday was reminscent of the staid nil all draws with Scotland and Belgium in the campaign when Beglin got injred but bythe end of that campaign we'd topped a group for the only time in our history. A repeat of that outcome and a trip to the World Cup in Russia would certainly give Seamus a nice target to come back to.